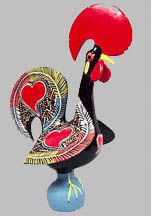 The picture is the Barcelos cockerel famous to portuguese legend and Nandos!
So back from Lisbon and I am not entirely sure what I have learnt (except for the cockerel legend). Overall I kinda did what I set out to do but somehow it was not entirely satisfactory. The swim was a solid 30 mins (and a second) so just above my target but pretty much where I want to be. It was quite a feisty affair with 600 in a mass start with a turn at 300m. The field appeared to me quite talented with a significant number using this event like me as a warm up to Lanzarote.
A leisurely transition and the out on the bike a 4 lap course. My plan was to go steady on the first and then push hard on laps 2 and 3 then hold on for the 4th. This worked well; I had a familiar dead leg feeling out of the swim but allowed them to slowly tune up to speed. The bike was essentially an out and back with a 1 mile hill just before turn around. We had a whole section of motorway closed off for us which was fantastic, but there was a strong headwind on the way out which was less good. It did make for a fantastic return leg with speeds topping 42 mph, and in general was good practice in holding a tight aero position for a sustained block of time. I was disappointed to clock what I thought was a slow 2.37 for the bike leg but the whole field was at least 10-12 minutes slower than last year which again puts me about where I felt I should be. I did however start to fade of the pace a bit in the last lap with a few I had passed in lap 3 clawing me back and then riding away from me. I felt that I had may be a bit more power to squeeze but it was not easy and settled on maintaining a steady rhythm through the last leg.
Finally out onto the run. I wrote the plan was to run steady 8 min miles as per goal IM pace. Fact was I had only one pace and that was to keep going. I think/hope it was down to a lot of running in the last 10 days and the deliberate non taper for this race (OK so I had a rest on friday but trained as normal the rest of the week) otherwise I think I could be in trouble come May 22nd. I got progressively slower on the 4 laps and was struggling a bit on the last. Still I posted a 1.43 which was worse than anyone who finished above me (so yes I did go backwards through the field on the run quite spectacularly) but was pretty much my target time (even if it was probably on 20.5 km).

I guess I learned I am still an aspirational AGer with no discernible talent but a lot of enthusiasm and that the breakthrough to elite superstardom will have to wait another week, lifetime or dimension.
As for the race itself. I think it is fab. The wind aside it is pretty well organised, a good strong field, fantastic venue found myself good accommodation and for a capital city relatively cheap. I think I may well be there next year if I am not doing London Marathon (or perhaps even the lisbon marathon which was the weekend before!)